We helped Megan Sellars achieve a beautiful, natural smile for her big day. Read about her transformation.
We want to look our best on the big day, and Megan approached Dr Andrea Shepperson to help correct some minor changes in tooth shape and position.  Megan is a very beautiful woman, and we wanted to provide her with a natural smile that complimented her personality and features, whilst protecting strong tooth enamel for the future.  Here's what we did, from a dental perspective:
Wedding Smile : Consultation
"Megan came to me to talk about her smile with her wedding about 3 months away.  She was quite self-conscious of her smile and struggled to smile in a relaxed way.  We looked at some of her social media images and video and noticed that she didn't show her teeth or smile in photos, despite being a vibrant and confident media personality.   
I saw a beautiful woman heading to the biggest day of her life and I wanted her to have a smile with so much confidence that you couldn't help but smile back.  There is nothing more infectious than an uninhibited smile – my job was to create something for Megan that she would love, and hiding her smile became a non-issue.  We started by taking videos and photos, and scanning her teeth to make 3D models, and then sat down and collaborated on the things that were important to her." 

Planning in 3D
Our first step is a high resolution digital scan. This is comfortable, fast and no x-rays or impressions are needed.   Lumino City Dental is one of the first practices in the group to install a digital scanner.  This takes thousands of images and stitches them together in 3D to create a highly accurate model.  There is no need for traditional impressions – filling a tray up with gel and the whole process is streamlined, clean and comfortable with no gagging or mess.
Once we have 3D models we used specialised dental design software to create the ideal smile.   We start with facial analysis and place teeth in the correct position in the face, maintaining symmetry and harmony with facial features.  The analysis shows proportions of teeth, ideal gum positions and the need to lengthen teeth, move them forward, lift the gum or bring them out to create a fuller smile. 
Once our analysis is complete we take shapes from nature – scans of hundreds of perfect teeth, and reproduce natures algorithms into the smile.  The result is extremely natural with shapes and textures that are extremely realistic.     
We design in conjunction with the Digital Smile Design Planning Center in Madrid, global experts in facial and digital dental aesthetics. This generates a prototype that becomes the blueprint for all treatment going forward, giving Megan a preview of her wedding smile. 
DSD Mock-Up
We create a 3D printed model and transfer a working mock-up to the mouth.  The patient can see and feel the result in your mouth before starting treatment. Sometimes it is surprising how our feelings constrain our smile, and the video shows that Megan was quite constrained in her smile, until she saw the mockup. 
This is an exciting stage and can be quite emotional, as smiles are transformed instantly with a tailor-made result.  Small changes can be made to the mockup before starting any treatment.  Most patients want to wear the mockup home.  It is, however, removable at the end of the appointment.
This stage is also important for planning delivery of the final work.  It gives the patient an end point, without having started treatment.  We have choices now – to move teeth using Invisalign or braces, to place porcelain or composite veneers, to lift the gum and to alter the bite.  Everything becomes precise and predictable.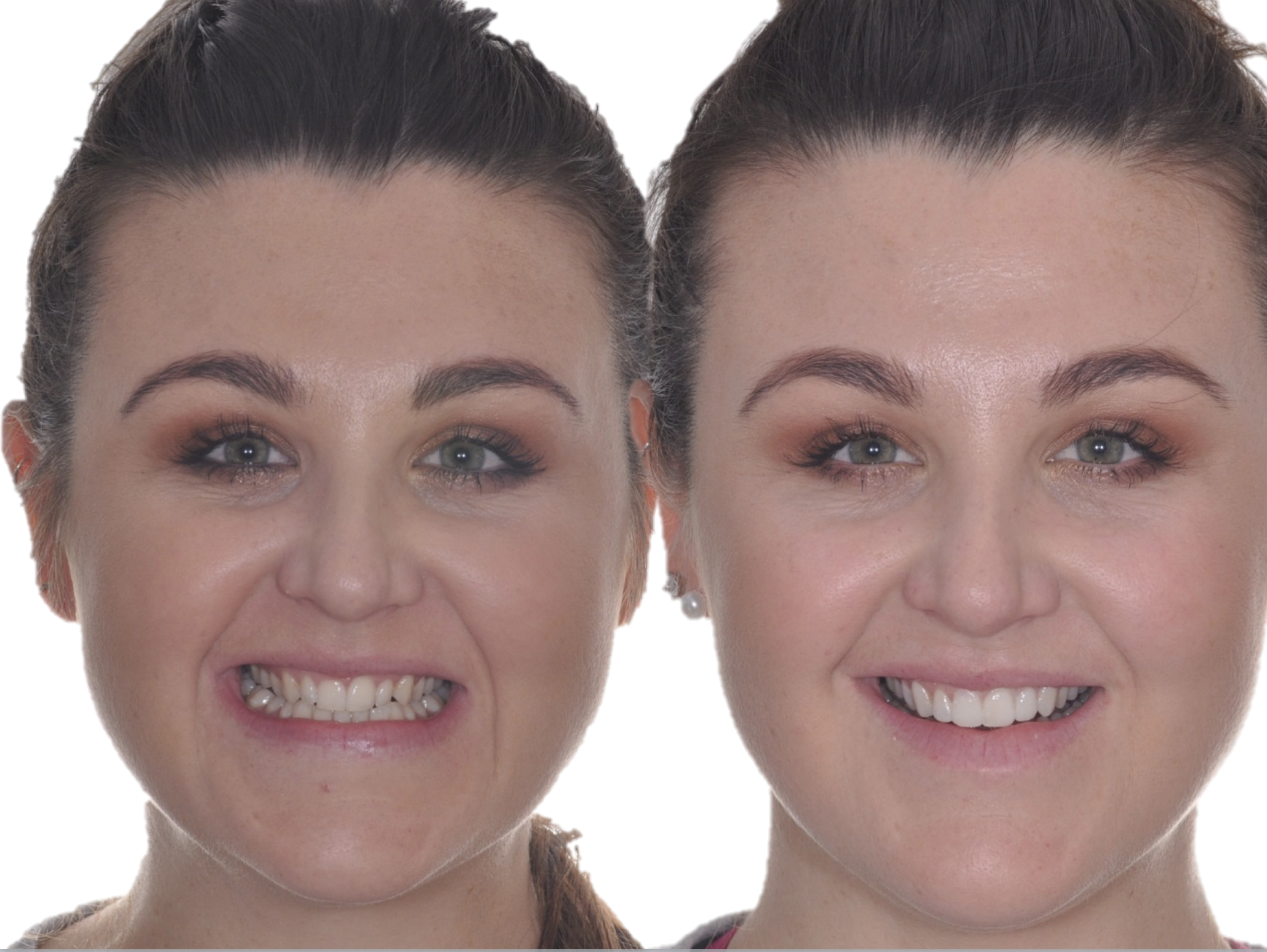 "Megan's mockup was a stunning change.  Teeth were aligned, the shapes were perfect for her face, the smile curve was ideal and little side teeth became properly proportioned teeth.  We filled out the 'buccal corridor' – the side of the smile that was hidden in shadows before.  Using Digital Smile Design planning , as a dentist I can be confident that what I show a patient at this stage will be the final result."   
Final Treatment
Once decisions have been made and all treatment options traversed, the treatment plan and costs are finalised.
"In this case we elected extremely conservative composite veneers for Megan, after whitening with in-office Zoom.  The main reason was to preserve enamel and give Megan choices in years to come.  Porcelain veneers would have involved more tooth removal, and after discussion neither of us were keen to do that.  We knew we had a wedding deadline and decided this was the most effective way to get a perfect wedding smile, whilst allowing the option of Invisalign in years to come.   
Read Megan's experience here: ZM Wedding Blog