Treatment Timeline
Opening the bite.

Digital scanning to record tooth form

Digital Smile Design (DSD) to determine ideal tooth position.

Production of a 3D printed model with new tooth shapes and duplication in the mouth as a Mock Up for approval.

Rebuilding bottom teeth to increase face height with composite and porcelain restorations.

Minimal preparation, preserving as much natural tooth as possible, for 10 porcelain veneers and crowns on worn upper teeth.

Cementation of the finished result.

before

after
Pre-Treatment Views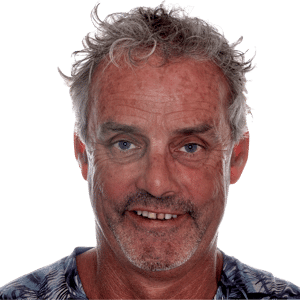 Digital Smile Design - DSDApp
Our planning started with a simulation in the DSD App, a clever software that can provide an initial 2D representation of your smile.  A Before/After slider allowed our patient to compare his current smile with the new smile design project.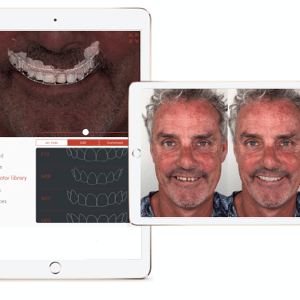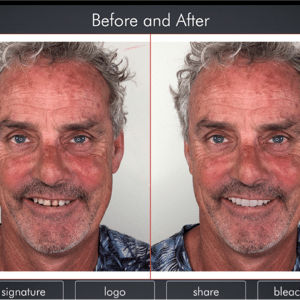 Digital Smile Design - 3D Design
The design process is a careful planning exercise in 3D, using scans, xrays, photos and facially driven tooth position to create harmony in the smile.  These images show some of the detailed digital design we undertake to get precision, predictability and a smile that is in harmony with facial proportions and soft tissues.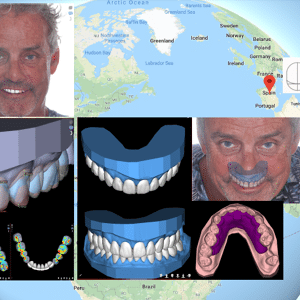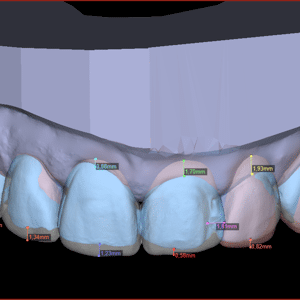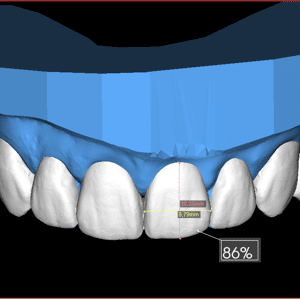 Emotional Mock-Up
Once the design is finalised we test drive the new smile live in the mouth.  The transformation is instant and our patients get to see the finished result before we start.
The ability to test drive your new smile is a key component of DSD – Digital Smile Design. The entire process is designed so that you're able to see and experience how your new smile "feels".
One of the latest innovations from DSD is the DSD Express Mock-up Shell – a 3D Printed Mock-up design with a fast turnaround time, while ensuring high quality, in the tooth coloured material that you wish.
Porcelain Restorations On Upper Teeth
Beautiful restorations were crafted to restore length to 10 upper teeth.  The result is stunning, and these are hard wearing, very durable materials.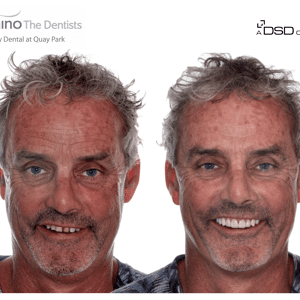 If you or anyone you know would like help with your smile, please complete our Patient Enquiry.  We would be delighted to discuss how Digital Smile Design can help you.